The American Association of University Women (AAUW) advances gender equity for women and girls through research, education, and advocacy
ANNOUNCING AN EXCITING EVENT: Join AAUW and the League of Women Voters in:
The Unveiling of the Historical Site marker for The "Golden Lane" – the 1916 suffragists silent march along Locust Street as part of the Missouri AAUW "Votes for Women Trail " project
When: July 3rd at 2:00pm
Where: Schlafly Tap Room, 2100 Locust, St. Louis, 63103
LEARN MORE AND GET THE INFORMATION HERE!
Next  IBC meeting: August 23, 2022 by ZOOM
ADELANTE is a book discussion group, sponsored by IBC , and created to spotlight engrossing stories and writing by women from all backgrounds  Meetings at present are by ZOOM, on the 4th Thursday of the month at 1:30 pm.  Questions?  Contact the webmanager via the form provided.  CLICK HERE for the schedule for this year. 
WHAT IS IBC?
Membership in the Saint Louis Interbranch Council (IBC) consists of AAUW branches located in the City of Saint Louis, Saint Louis County, Saint Charles County, Jefferson County, and Franklin County. The IBC meets  four times a year: August, November, February, and May.
The organization  financially supports programs and projects with area-wide implications, provides collegiality and the sharing of ideas, presents awards and provides a forum and leadership training for branch board members.
One fundraiser is held each year (commonly referred to as the Spring Fling).  This year it was held on March 26, and the title  is "Swinging Into Spring".  It is an elegant luncheon with entertainment.  The Barbara Lackritz Awards are given and funds are raised through exciting games and activities.  Learn more…
See IBC Minutes and Fiscal Reports,
IBC guidelines
IBC History
Branches are encouraged to apply for the Incentives and Awards offered by the state organization, AAUWMO.  LEARN MORE HERE…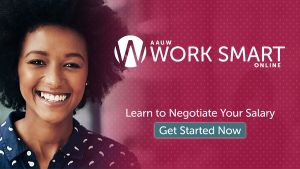 Women typically are paid 80 percent of what men are paid. Use AAUW's free Work Smart online workshop to learn how to ask for more.
INTERNATIONAL RELATIONS LECTURE SERIES
The annual International Relations Lecture Series that takes place from January through April is cosponsored by AAUW and the Tuesday Women's Association of the Ethical Society of St. Louis. See the IRLS's website for information about the next series.. 
NCCWSL
The IBC sponsors one or more college women annually to attend the AAUW National Conference for College Women Student Leaders (NCCWSL) in May in College Park, Maryland. Funds are raised for this through various projects. Learn more…..