Next meeting: August 24, 2021, location TBA.
    ZOOM TO SPRING FLING!   
The 2021 IBC Spring Fling was held via Zoom on Saturday, March 13, 2021. This annual luncheon is the sole fundraiser for IBC activities and the opportunity for members of all branches to gather virtually. The Barbara Lackritz Service Award for 2020 was presented to Mary Jermak. See photo gallery of past Spring Flings here.
AAUW'S WORK SMART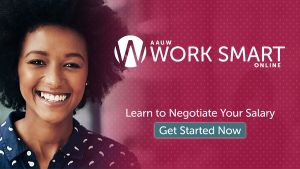 Women typically are paid 80 percent of what men are paid. Use AAUW's free Work Smart online workshop to learn how to ask for more.
WHAT IS IBC?
Membership in the Saint Louis Interbranch Council (IBC) consists of AAUW branches located in the City of Saint Louis, Saint Louis County, Saint Charles County, Jefferson County, and Franklin County. The IBC meets  four times a year: August, November, February, and May.
IBC ACTIVITIES
PLANT A YARD SIGN FOR WOMEN!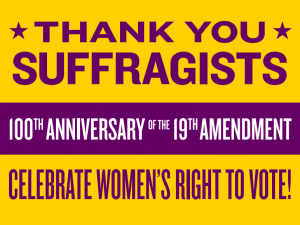 August 26, 2020, was the 100th Anniversary of the certification of the 19th Amendment. After 60 years of organizing, meeting, protesting, lobbying, and marching, women in every state were officially granted the legal right to vote. Of course, it took almost four more decades for women of color to be able to fully exercise that right. 100th Anniversary programs, proclamations, websites, and celebrations were planned across the nation, but many public events had to be cancelled due to COVID-19.
The Kirkwood-Webster Groves AAUW Branch designed a celebratory sign in the colors of the U.S. suffragist movement and printed more than 500 signs for individuals and members of women's organizations to purchase and display in their yard, window, community centers, or meetings. This is NOT a political project, and this is NOT a partisan effort. The sign is generic and has no display expiration date. A few signs are still available. Contact the Branch for more information or download and send in the order form.
Let's celebrate our right to vote and show the St. Louis area how important this is to St. Louis women!
INTERNATIONAL RELATIONS LECTURE SERIES
The annual International Relations Lecture Series that takes place from January through April is cosponsored by AAUW and the Tuesday Women's Association of the Ethical Society of St. Louis. See the IRLS's website for information about the 2021 series.
IBC BOOK CLUB
The IBC Book Club (AAUW's Operation Equity, formerly Adelante), is currently on hiatus. Check back here for updates.
MISSOURI WOMEN'S NETWORK LEGISLATIVE RETREAT JANUARY 16, 2021
AAUW participated with nearly a dozen other women's organizations in a Zoom conference to discuss and set legislative priorities for 2021.
NCCWSL
The IBC sponsors one or more college women annually to attend the AAUW National Conference for College Women Student Leaders (NCCWSL) in May in College Park, Maryland. Funds are raised for this through various projects such as gift-wrapping in stores and contributions from the member branches.
Some testimonials from young women whom IBC has sent to NCCWSL:
Attending NCCWSL and getting the opportunity to surround myself with inspiring, ambitious, hard-working women from all walks of life was hugely encouraging for me, especially as a woman of color. The conference's commitment to diversity and to creating a positive environment is unmatched and attending was an invaluable experience that I wish all women could have.—Sharon P.
I was encouraged and motivated by the many testimonies and experiences that were shared at the NCCWSL Conference.—Janet K.
The NCCWSL conference was a major show of female power, inspiration, and radical vulnerability for me when I needed it most.—Liz K.
For more information, contact Debbie.