Make a Plan for Voting!
Be aware that Missouri's voting laws are different from some guidelines you might see on social media. Have a plan and allow plenty of time for mailing the special 2020 Mail-In Ballot if you choose to use that. Besides voting in person, you have two other choices: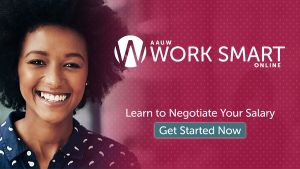 Women typically are paid 80 percent of what men are paid. Use AAUW's free Work Smart online workshop to learn how to ask for more.
Membership in the Saint Louis Interbranch Council (IBC) consists of AAUW branches located within the City of Saint Louis, Saint Louis County, Saint Charles County, Jefferson County, and Franklin County. The IBC meets  four times a year: August, November, February, and May.
 WHAT'S HAPPENING NOW 
Plant a Yard Sign for Women!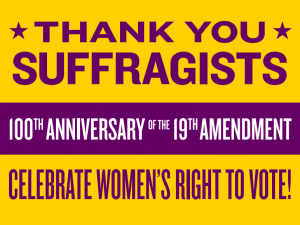 August 26, 2020, is the 100th Anniversary of the certification of the 19th Amendment. After 60 years of organizing, meeting, protesting, lobbying, and marching, women in every state were officially granted the legal right to vote. Of course, it took almost four more decades for women of color to be able to fully exercise that right. 100th Anniversary programs, proclamations, websites, and celebrations were planned across the nation, but many public events had to be cancelled due to COVID-19.
Kirkwood–Webster Groves AAUW wants to shout it to our neighbors, and we invite your organization to join us! Our project, Plant a Yard Sign for Women, thanks the suffragists and is a subtle reminder that women have not always had a voice in local, state, and national government.
The Kirkwood-Webster branch has designed a celebratory sign in the colors of the U.S. suffragist movement and are printing 500 signs that we hope members of women's organizations will also want to purchase and display in their yard, window, community centers, or meetings. This is NOT a political project, and this is NOT a partisan effort. The sign is generic and has no display expiration date. Our branch is purchasing signs for our members; your organization may choose to do the same or purchase signs and resell them. We will coordinate the orders and distribution of the signs as well as publicity for the sign blitz. Contact us for more information or download and send in the order form.
Let's celebrate our right to vote and show the St. Louis area how important this is to St. Louis women! Wouldn't it be fabulous to see signs all over the area celebrating women and the vote!
• CANCELED: Because of covid-19, the March 28, 2020, Spring Fling Luncheon has been canceled.
• CANCELED: The April lecture of the International Relations Lecture Series, cosponsored by AAUW and the Tuesday Women's Association of the Ethical Society of St. Louis, has been canceled. For more information, see the Series's website.
• POSTPONED: Earth Day St. Louis, April 2020, in Forest Park.
• CANCELED: March meeting of the IBC Book Club (AAUW's Operation Equity, formerly Adelante), which meets on the fourth Thursday of September, October, and January through May at Barnes & Noble, 1600 Clarkson Rd., and explores current topics. Contact Teri for more information.
LEGISLATIVE RETREAT
View the issue papers from the planned 2019 Missouri Women's Network Legislative Retreat (canceled because of snow).
WORK SMART
Area AAUW leaders met January 14, 2019, with AAUW Senior Vice President of Fellowships and Programs Gloria L. Blackwell to discuss the WorkSmart initiative and AAUW's online salary negotiation course.
Gloria Blackwell, fourth from left, listens to Christine Nobbe (president of the Kirkwood-Webster Groves Branch) describe her experience taking the online course. Also pictured, clockwise from left, Kay Meyer (AAUW MO President), Shirley Breeze and Pat Kelemen (Ferguson-Florissant Branch), Carol Davis McDonald (St. Louis and Kirkwood-Webster Groves Branches), Abby Roessler (Ballwin-Chesterfield Branch), Marsha Koch (Kirkwood-Webster Groves and Ballwin-Chesterfield Branches), Lynne Roney (Kirkwood-Webster Groves Branch)
L-R, Kay Meyer, Karen Francis (AAUW Public Policy Committee chair), Pat Shores (Ballwin-Chesterfield Branch), Jan Scott (St. Louis Branch)
Clockwise from left, Kay Meyer, Pat Shores, Jan Scott, Jennifer Urish (AAUW IL president), Shirley Breeze, Pat Kelemen, Gloria Blackwell (photos by Ellen Irons, St. Louis Branch)
NCCWSL
The IBC sponsors one or more college women annually to attend the National Conference for College Women Student Leaders (NCCWSL), an event held by the American Association of University Women, in May in College Park, Maryland. Funds are raised for this through various projects such as gift-wrapping in stores and contributions from the member branches.
Some testimonials from young women whom IBC has sent to NCCWSL:
Attending NCCWSL and getting the opportunity to surround myself with inspiring, ambitious, hard-working women from all walks of life was hugely encouraging for me, especially as a woman of color. The conference's commitment to diversity and to creating a positive environment is unmatched and attending was an invaluable experience that I wish all women could have.—Sharon P.
I was encouraged and motivated by the many testimonies and experiences that were shared at the NCCWSL Conference.—Janet K.
The NCCWSL conference was a major show of female power, inspiration, and radical vulnerability for me when I needed it most.—Liz K.
For more information, contact Debbie.
2019 SPRING FLING
The 2019 Annual IBC Spring Fling on March 23, the sole fundraiser for IBC, was held at The Highlands in Forest Park. The Barbara Lackritz AAUW Service Award was presented to Marsha Koch. See photos from the 2019 IBC Spring Fling.
2018 SPRING FLING
The 2018 Annual IBC Spring Fling Event, held on April 21, featured the 2018 Barbara Lackritz Awardee, Karen Francis, a "purse" fundraiser, an elegant luncheon at Glen Echo Country Club and fine entertainment.
Seen at the event (click on any picture to view it full-sized)